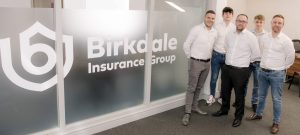 The founder of Birkdale Insurance Group, George Wall, is a long standing Southport resident, married with 3 young children.
George has 20 years experience in the insurance industry. The vast majority of this experience was gained at The County Group, a multi-award winning insurance broker who won "Insurance Broker of the Year" at the 2017 British Insurance Awards.
George progressed quickly through the ranks since joining in 2010, working his way up to Branch Director of the Southport branch, running a team in excess of 30 people.
Despite enjoying his team there, George decided he wanted to take the brave step of setting up and running his own insurance brokerage and the Birkdale Insurance Group was formed. His idea to set up his own business was before the outbreak of Coronavirus, but George kept faith with the courage of his convictions and the company was authorised by the FCA in September 2020.
Having been in the insurance industry for 20 years, George has recruited a team of insurance experts who are equally passionate about customer service. A cliché for sure, but providing exceptional customer service underpins everything that Birkdale Insurance do.
In the words of George himself:
"Work really hard to build a great relationship with the customer and win the business. Don't get complacent, work just as hard and keep the business for a number of years. Insurance is a people business. Have a close and mutually trusting relationship, bend over backwards to help your customers when they need you, and you should have a long term sustainable business model".
"Recommendations and word of mouth is key in the insurance industry. People won't shop around if they trust the service you are providing".
"As a brand new business launched in the middle of the worst pandemic in living memory, we'd really love the opportunity to speak with any individuals or businesses about their insurance requirements and will do our very best to provide a great insurance product, fantastic customer service, at a competitive price".